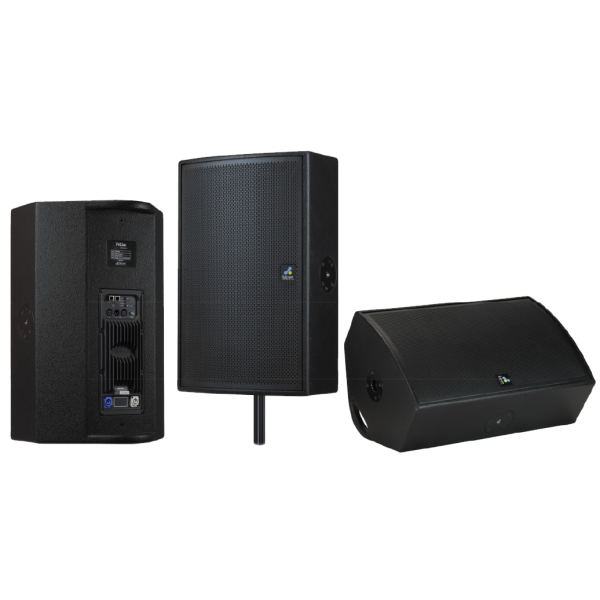 Discontinued
FA22ac Self-Powered Dual 12″ Coaxial Loudspeaker
FA22ac Self-Powered Dual 12" Coaxial Loudspeaker
90° x 45° Coverage Pattern
Operating Mode:

Self-powered, w/ On-Board DSP

Operating Range:

44 Hz to 20 kHz

LF Transducers:

12.0" neodymium magnet woofer, 3.0" voice coil

HF/LF Transducers:

Coaxial 3.0" titanium diaphragm compression driver; 12.0" woofer, 3.0" voice coil; single neodymium magnet

Power Handling at Nominal Impedance:


LF: 57 V / 400 W @ 8 Ω
HF/LF: 57 V / 400 W @ 8 Ω

Equalized Maximum SPL (peak / continuous):


Full Range: 130 dB / 124 dB
80 Hz HPF: 133 dB / 127 dB
The FA22ac is a portable, self-powered 3-way coaxial loudspeaker that is well suited for a variety of sound reinforcement applications. Its neodymium coaxial transducer and 90° x 45° horn provide broad coverage that is beneficial in both stage monitor and mains operation, and its dedicated neodymium low frequency transducer provides additional low frequency directivity and mid bass impact. Its multi-faceted, enclosure includes a pole mount socket, 40° and 55° rear angles for stage monitor use, and M10 threaded accessory plates for use with optional suspension hardware such as the FA22 Yoke Bracket. The compact enclosure is vertically-oriented, but if a horizontal orientation is desired, it can be easily obtained by exchanging the pole socket with one of the M10 accessory plates and rotating the coaxial transducer to provide appropriate coverage angles.

Sound, innovative acoustical design combined with on-board TQ™, Level 1 processing provides exceptional clarity and stability, and precise transient response even at high sound pressure levels. Four back panel selectable presets optimize the response for either mains or floor monitor use, with or without a subwoofer. A full complement of input filters and delay, as well as signal levels and amplifier status, may be accessed via Ethernet, using Armonía Pro Audio Suite™ control software. In addition, a pre-output EQ stage is available for programming custom presets. These presets may be saved and later recalled using the back panel Preset Select button or software.

The FA22ac's transducers are powered by two 1050 watt amplifier channels, designed and manufactured in Italy by Powersoft. Powersoft amplifiers incorporate state-of-the-art Class-D technology to produce extremely high efficiency, low noise, and low intermodulation distortion in compact and lightweight packages.

The FA22ac's versatility, high performance, and aesthetic appeal make it a compelling choice for A/V rental companies, live performance venues, corporate A/V, nightclub PA, theatrical productions, and more.