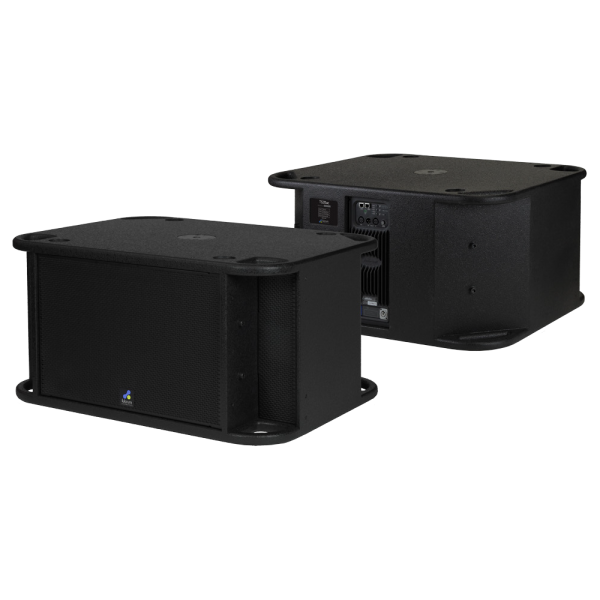 Discontinued
TS215ac Self Powered Dual 15″ Direct-Radiating Subwoofer
TS215ac Self Powered Dual 15" Direct-Radiating Subwoofer
Operating Mode:

Single-amplified w/ DSP

Operating Range:

30 Hz to 154 Hz

LF Transducers:

2 x 15.0" woofers, 4.5" voice coil; neodymium magnet

Power Handling at Nominal Impedance:

77 V / 3000 W @ 2 Ω ( 2x 1500 W @ 4 Ω )

Equalized Maximum SPL (peak / continuous):


140 dB / 134 dB peak (half-space)
134 dB / 128 dB continuous (whole space)
The TS215ac is a portable, dual 15 inch, direct radiating subwoofer that is designed to provide impressive low frequency impact and solid musicality. Its 4.5 inch voice coils, strong neodymium magnets, and innovative low-turbulence ports permit an optimal tuning to be achieved in an enclosure that is unusually small for a dual 15 inch subwoofer.

Eight handles and an optional face pallet facilitate transport of the enclosure. An M20-threaded connector plate is centered on the TS215ac's top panel for use with the optional, height-adjustable SP1 Speaker Pole. This pole's M20 threaded bolt screws securely into the connector plate and is used to mount loudspeakers equipped with a 35 mm / 1.38 inch pole socket directly above the TS215ac. Four vibration isolation feet prevent spurious vibrations and "walking". When stacking enclosures, the vibration isolators nest in recesses in the enclosure below. The recesses are configured so that enclosures can be rotated to create cardioid arrays.

Four back panel selectable presets optimize the response for either normal, cardioid, or user-defined configurations. A full complement of input filters and delay, as well as signal levels and amplifier status, may be accessed via Ethernet, using Armonía Pro Audio Suite™control software. In addition, a pre-output EQ stage is available for programming custom presets. These presets may be saved and later recalled using the back panel Preset Select button or software.

The TS215ac's transducers are powered by two 1600 watt amplifier channels, designed and manufactured in Italy by Powersoft. The amplifier incorporates state-of-the-art Class-D technology with Power Factor Correction to produce extremely high efficiency, low noise, and low intermodulation distortion in a compact and lightweight package.

The TS215ac's massive output capability rivals that of many conventional dual 18 inch subwoofers, while its compact size reduces transport costs and saves precious truck space and venue real estate. The combination of high performance, labor saving portability, and aesthetic appeal represents an ideal solution for nightclub PA, drum/side fill monitoring, corporate A/V, theatrical productions, and more.
Projects Using the TS215ac Self Powered Dual 15″ Direct-Radiating Subwoofer