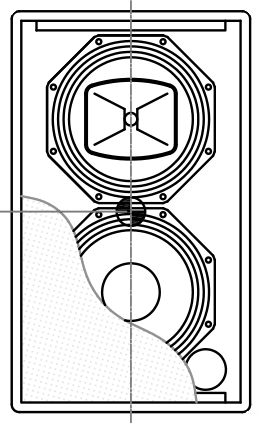 FA Portable

Fulcrum Acoustic FW15 Coaxial Cardioid Stage Monitor
Todd Foster presents the world's first coaxial cardioid stage monitor, Fulcrum's "Best of Show" award-winning FW15.
Each product in the FA Portable line offers unique acoustical advantages over traditional portable systems; and a broad range of mounting options allows each of them to serve in a multitude of roles.
The FA Series of full range loudspeakers employs proprietary horn-loaded coaxial drivers to bring Fulcrum's signature clarity and well-behaved directionality to portable applications in versatile, compact and easy-to-handle packages. When used as mains, their ability to deliver clear separation of sources and their effortless character allows the full impact of a performance to shine through. While in floor monitor configuration, their carefully tuned voicings provide a neutral character and optimized stability with the most popular vocal microphones.
The FW15 15 inch coaxial, passive cardioid stage monitor provides 6 dB of low frequency attenuation in the rear hemisphere and tour-grade output in a low-profile package. Its neodymium coaxial transducer and 75°x75° horn provide optimal coverage for monitoring applications, and its large-format 3 inch compression driver assures HF headroom. The coaxial design, coupled with Fulcrum's TQ™ DSP processing, allows stability and gain-before-feedback both on- and off-axis. The clarity and source separation of the FW15 allows performers to clearly distinguish their own voice and instrument amongst others. This capability benefits mix engineers as well as performers.
The TS Series subwoofers' ultra-compact enclosures allow concert-level low frequency impact to be provided in situations where normal touring subwoofers would be far too large. From the TS221 touring class subwoofer to the TS212 ultra-compact subwoofer, precise articulation combines with satisfying low frequency extension and un-matched output capability to maximize the impact of any show – even those with severe space constraints.
Fulcrum Cardioid Subwoofers are designed with proprietary Passive Cardioid Technology™ to eliminate excessive rear radiation by up to 10db without the extra cost, space requirements and inconvenience of active cardioid subwoofer systems. Their subcardioid behavior is produced by a meticulously conceived acoustical circuit which balances the position of the low frequency driver, the enclosure depth and volume, and specially constructed rear-mounted ports which include a calibrated resistive element.
Traditionally, mains with the output capability of the FA Series have been much too heavy for speaker stands, but the light weight of FA Series mains allows them to be mounted on stands or on CS Series and TS Series subwoofers using the SP1 speaker pole. In fill applications a combination of mounting options including custom-fitted portable yokes makes precise deployment quick and easy.
Comparing Fulcrum's FH and AH Coaxial Horn Systems
Fulcrum Director of Sales, Todd Foster compares features and benefits of Fulcrum's FH and AH high-sensitivity arrayable coaxial horn systems.
Fulcrum Acoustic FH15 Full-Range Coaxial Horns
Todd Foster provides an overview of Fulcrum's FH15 Series product line at InfoComm18.