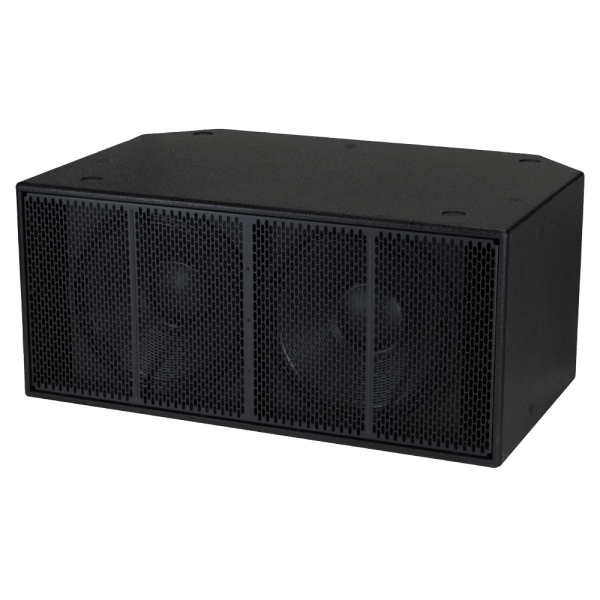 Discontinued
Sub218Lac Self Powered Dual 18″ Direct-Radiating Subwoofer
Sub218Lac Self Powered Dual 18" Direct-Radiating Subwoofer
Operating Mode:

Single-amplified w/ DSP

Operating Range:

24 Hz to 152 Hz

LF Transducers:

2 x 18.0" woofers, 4.0" voice coil; ceramic magnet

Power Handling at Nominal Impedance:

98 V / 2400 W @ 4 Ω ( 2x 1200 W @ 8 Ω )

Equalized Maximum SPL (peak / continuous):


141 dB / 135 dB peak (half space)
135 dB / 129 dB continuous (whole space)
Overview

The Sub218L is a low profile, dual 18 inch vented subwoofer that is designed to provide extended low frequency support in a wide variety of installations. Its premium, high power transducers are physically engaging, yet are musically articulate enough to reproduce the subtlety and harmonic nuance of an upright bass or the low strings of a piano.

Four back panel selectable presets optimize the response for either normal, cardioid, or user-defined configurations. A full complement of input filters and delay, as well as signal levels and amplifier status, may be accessed via Ethernet, using Armonía Pro Audio Suite™ control software. In addition, a pre-output EQ stage is available for programming custom presets. These presets may be saved and later recalled using the back panel Preset Select button or software.

The Sub218Lac's transducers are powered by two 1600 watt amplifier channels, designed and manufactured in Italy by Powersoft. The amplifier incorporates state-of-the-art Class-D technology with Power Factor Correction to produce extremely high efficiency, low noise, and low intermodulation distortion in a compact and lightweight package.


Technologies

The two 18 inch woofers in the Sub218L have high power, 4 inch voice coils, and are capable of impressively large excursion. The enclosure is optimally tuned to provide maximum low frequency output.
Projects Using the Sub218Lac Self Powered Dual 18″ Direct-Radiating Subwoofer