Fulcrum Acoustic to Highlight Passive Cardioid Technology at ISE 2023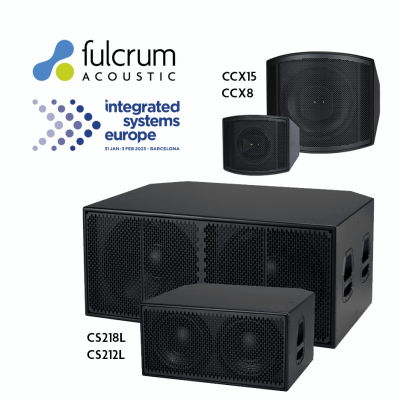 Whitinsville, MA – January 2023…Fulcrum Acoustic announced that it will be showcasing its patented Passive Cardioid Technology during the upcoming Integrated Systems Europe (ISE) 2023 show at Fira Barcelona Gran Via starting on January 31. ISE will be the international debut for the CCX8 series and CCX15 series compact coaxial loudspeakers as well as the CS212L and CS218L subwoofers.
CCX8 and CCX15 are coaxial, subcardioid loudspeakers that provide the output capability and pattern control of normal premium 2-way systems in significantly more compact enclosures. Their unique trapezoidal shaped enclosures allow for mounting very close to ceilings with minimal effect on sight lines, which facilitates acceptance by interior designers and architects. The CCX8 is an 8in system offered in two horn patterns and the CCX15 is a 15in system offered in five horn patterns.
CS212L and CS218L are high output, low profile, subcardioid subwoofers intended for a wide range of venues. These models feature dual, high power-handling woofers in compact, low profile enclosures. The CS212L is a 2 x 12-inch system and the CS218L is a 2 x 18-inch system.
All four of these products utilize the patented Passive Cardioid Technology by Fulcrum Acoustic. This technology addresses one of the major challenges of direct-radiating loudspeakers: excessive rear LF radiation. Unlike active cardioid loudspeakers, Fulcrum's Passive Cardioid Technology does not require additional amplifiers or cancelation drivers. The CS212L provides about 7 dB of rear attenuation while the CS218L provides >10dB. Both the CCX 8in and 15in models provide 7dB of LF attenuation in the rear hemisphere.
See Fulcrum Acoustic at booth 7H900 during the ISE 2023 show or visit the Fulcrum Acoustic website at www.fulcrum-acoustic.com for more information.
Related Posts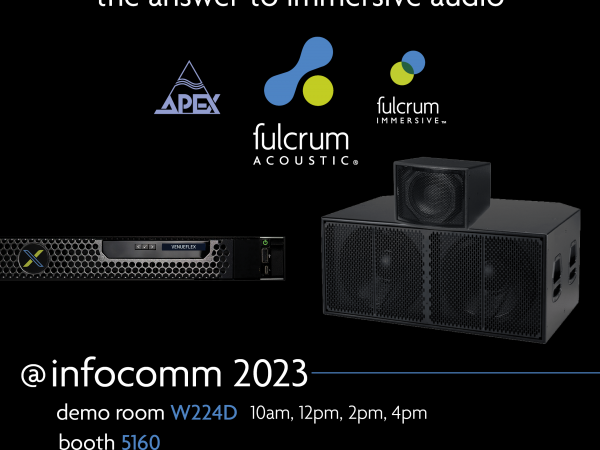 Suite of Immersive Tools Unveiled at InfoComm Demo Room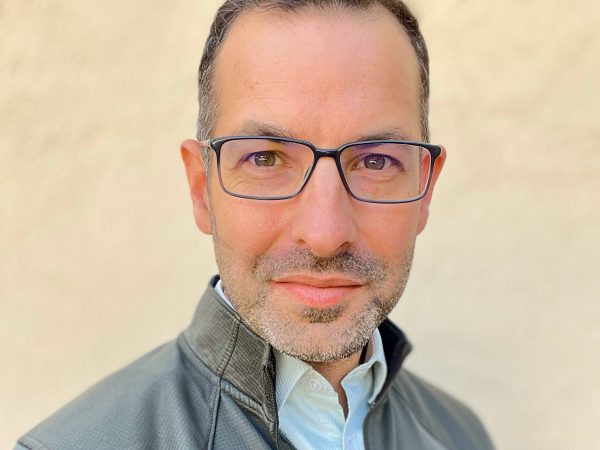 Fulcrum Acoustic Appoints Val Gilbert as Director of Business Development for Export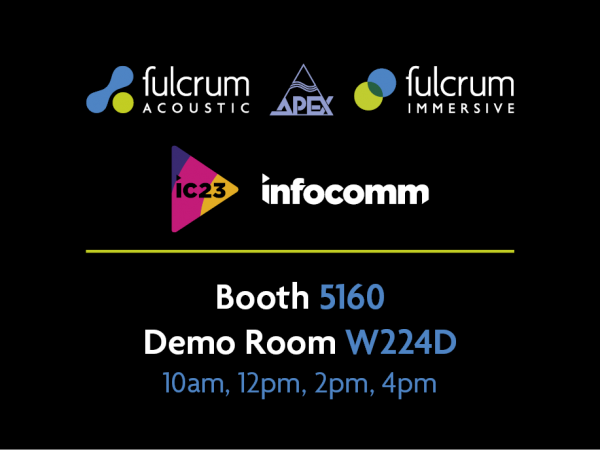 Fulcrum Acoustic at InfoComm 2023