MONDO | STADIA – Spartan Stadium Profile
The original article in MONDO | STADIA can be found here
Spartan Stadium, home to the Michigan State Spartans, was constructed in 1923 at a cost of $160,000 – equivalent to over $2.5 million today – with a seating capacity of just 14,000.
Michigan State University occasionally leases the venue for concerts and sporting events, including a hockey game between Michigan State and Michigan that held a world record for the largest ice hockey crowd in history.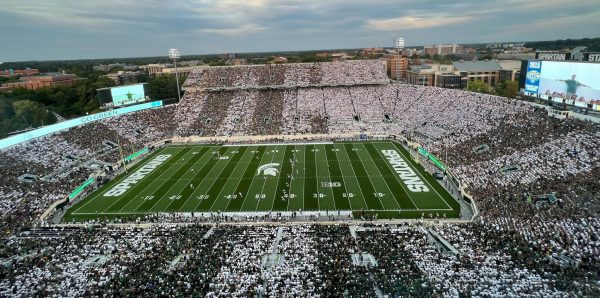 Since its opening, the stadium, nicknamed 'The Woodshed', has undergone significant upgrades, including changes to the playing surface, modern video scoreboards, stadium-wide lighting, and an increase to a total capacity of 75,000.
Spartan Stadium has recently been revamped once more, with the audio system being the focus as part of a $4.1 million capital improvement plan by the university to adapt to changing code requirements and maintain a first-rate experience for fans.
Washington Professional Systems (WPS), a national audiovisual technology integrator, was enlisted to complete a series of large-scale audio system enhancements at Michigan State University's venue.
WPS was selected by Michigan State to demolish the aging audio system, as well as engineer, programme, and integrate a new, distributed audio system. The audio system, designed by Jack Covert's team at Anthony James Partners, provides coverage for the bowl seating and concourse areas of the stadium and includes a series of Fulcrum Acoustic AHS steerable arrays, US221 subwoofers, and AH65 coaxial horn loudspeakers powered by amplifiers from Powersoft and QSC. Signal processing is handled by QSC Q-SYS Core 110F and Core 8 Flex DSPs with touch panel integration for system control and monitoring. The "head end" system is connected via a Dante network and allows for interoperability between equipment with near zero latency.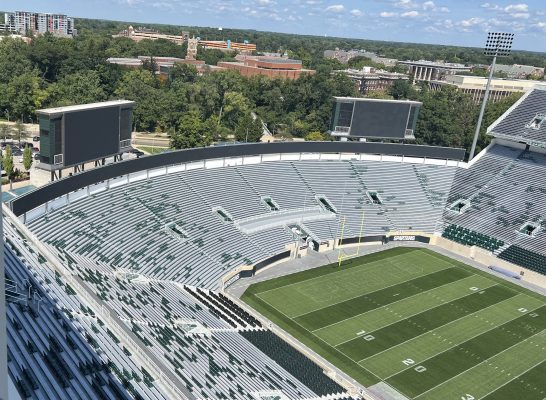 Rich Frembes, Senior Technologist at Fulcrum Acoustic, takes up the story: "The existing system had reached the end of its anticipated service life and the venue were looking for some new audio technology.
"Anthony James Partners made visits to the Fulcrum factory to discuss the new stadium steerable system. From there, they had enough confidence in the experience and creative forces, and could see what our capabilities were. We were the only ones with the product that can do exactly what we were saying it could do."
Discussing the project at Spartan Stadium, Rich furthered: "A lot of speakers had to go into a two existing scoreboards that had very limited space to work with. The scoreboard is divided up into four or five levels inside, and we only had approximately two-and-a-half metres in height to work with, so we had to pack a lot of horsepower into that limited height profile.
"It's 750ft from the south scoreboards, where the AHS loudspeakers are installed, to the far north end zone seats, so a long throw was needed. Plus, we had to match the seating profile of the stadium, too. The east/west clusters also had to cover from 10ft above field level to 113ft, which is the top of upper deck."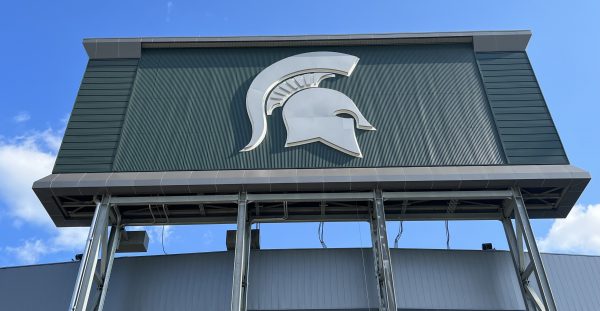 The AHS series was the perfect match for Spartan Stadium, as it's specifically targeted at applications where very high output and precise pattern control are required. The AHS' configurable vertical pattern allows dispersion to be tailored to a venue's needs. Its modularity allows it to scale as needed to tackle very long-throw applications, such as those encountered in stadium end-zone/scoreboard deployments. Additionally, its compact size allows the AHS to be integrated into congested scoreboard structures.
The AHS440 (45° horizontal beamwidth) utilises four high- frequency horns, each paired with a coaxial compression driver. The AHS460 (60° horizontal beamwidth) uses three high-frequency horns. Both models incorporate four high- power 10" woofers loaded by Oculus phase plugs. The Compression Head extends the low frequency horn length, allowing for low frequency extension to 60 Hz in a modest 28" of depth. Frontal dimensions are a compact 36" wide x 31" tall.
Fulcrum Acoustic's TQ processing combined with beam- forming DSP algorithms configure AHS vertical dispersion to match a venue's specific geometries and throw distances. Multiple HF horns combine coherently to provide the output necessary to combat HF air loss, which can be substantial in stadium-scale applications.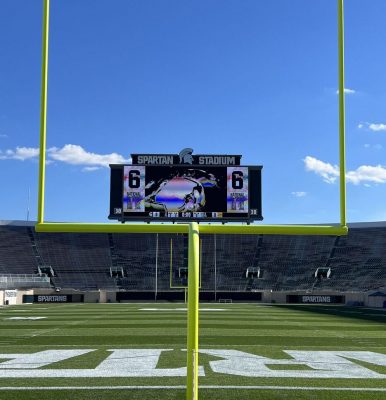 "The ability to shape the coverage of the system and match the seating areas of the stadium resulted in a remarkably consistent coverage," Rich added. "One of the things we would do for the demonstration is to start at the far end zone and just have people walk all the way up to listen to some music – and you just wouldn't perceive a change in level like you'd expect." Jack Covert, Senior Design Engineer for Anthony James Partners, stated that the new audio system at Michigan State's Spartan Stadium is "one of the best sounding systems in all of college football."
Keith Neubert, Executive Director of WPS, was in full agreement: "The system clarity, even at the highest outputs, is currently unmatched and we've been able to eliminate any hint of feedback from the input sources. Our team and partners have delivered a first-class audio experience that fans will enjoy for many years.
"The demands of athletic departments to increase attendance and maintain high levels of fan engagement are greater than ever. The expectations for excellent audio and video lead the charge in enticing fans to return to in-person events on the tail of the COVID-19 pandemic.
"Michigan State has made significant investments in recent years to bolster the fan experience through audio-video technology and Spartan Stadium is clearly on the forefront of this evolution."
WPS also replaced the entire audio cabling with all-new fiber optic cabling infrastructure and installed an ancillary analog audio system that interfaces with the existing fire alarm system for egress announcements during emergencies. The main audio system is designed to mute entirely during an emergency and immediately switch to the ancillary system for emergency broadcasts.
WPS tested, tuned, and commissioned the newly-integrated Fulcrum Acoustic system ahead of Michigan State's first home game of 2022 at Spartan Stadium against the Western Michigan University Broncos on September 2nd, which the Spartans won 35-13.
Related Posts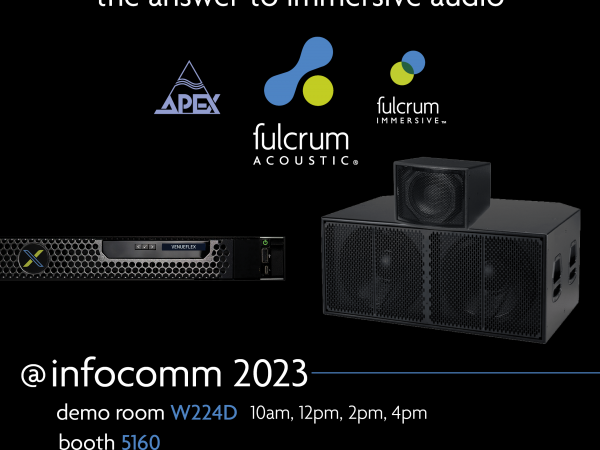 Suite of Immersive Tools Unveiled at InfoComm Demo Room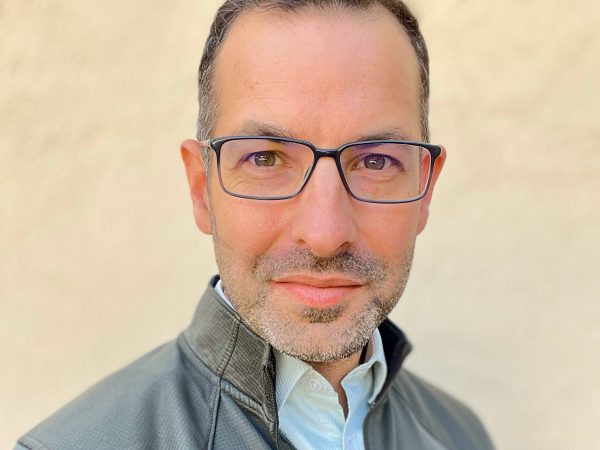 Fulcrum Acoustic Appoints Val Gilbert as Director of Business Development for Export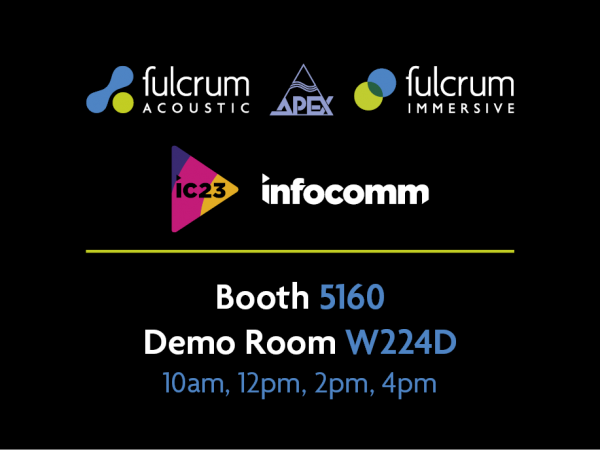 Fulcrum Acoustic at InfoComm 2023